---
Vitaliy Agapeyev was born in Ternopil in 1989. Like most artists of his surroundings, Vitaliy started from graffiti. Subsequently, spray painting and stickers began to supplement the graphics works and painting. In 2012 graduated from Ternopil National Pedagogical University, Institute of Arts, where he studied at the Department of Fine Arts and Crafts. The basis of his multidisciplinary practice is working with graphics, murals, installations and media art.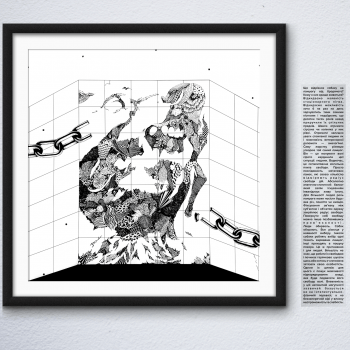 At this moment Agapeyev works with such concepts as a transgression, consciousness, code, sanctitude, ecology and a synergy of all these concepts in post-internet culture. In this sense domains Vitaliy makes researches and experiments with media, formats and a conceptual component.
Vitaliy is going to spend 2 months on a residency stay here in our studio from the beginning of this October.
The residency program is supported using public funding by Slovak Arts Council. The stay is also supported by Košice city and Creative Industry Košice. The residency is organized in cooperation with Nazar Voitovych Art Residence.