---
Tamar Nadiradze (born 1991, Gori, Georgia) belongs to the young generation of Georgian visual artists. She graduated from the Tbilisi State Academy of Arts with Bachelor of Arts award in Book Illustration and Design at (2010-2014) and, then she studied informal MA in Artistic Practice "Creative Mediation" at the Center of Contemporary Art – Tbilisi (2016).
You can remember Tamar from her first residency in Košice in 2016 when she created the experimental publication called In the Forest. The book tells a story about the woman who created an imaginary forest, to travel into her own subconscious. All the surroundings of her create possibilities for transformation, to sort the information, experiences and all the other emotional gaps. In 2018 she will take part in three-months residency which will be finished with an exhibition in VUNU Gallery in Košice.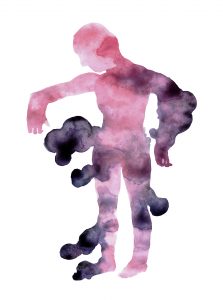 Tamar explores and makes connections between people's social life, self-research and contemporary art through artistic research, which she mainly turns into experimental publications and/or contemporary drawings and illustrations. She is mainly interested in how an individual explores his/her own persona, as well as their everyday life and expresses the findings by means of stories and fairy tales, and at the same time,  establishes his/her place into our complex social and cultural lives. Tamar's drawings are mostly symbolic, surreal stories with themes connected to wandering, traumas, searching, beliefs, gender identity and specifications, comfortable zone and etc.
https://www.instagram.com/tamar.nadiradze/
The residency program is supported using public funding by Slovak Arts Council. The residency is also supported by Creative Industry Košice.