---
Jiří Suchánek (1979) is a Czech audiovisual artist, musician, multimedia experimenter, and developer who will participate in a two-month residency stay within the project KAIR Košice Artist in Residence. His permanent, and often interactive, audiovisual installations are placed in natural and public spaces such as a cave, astronomical observatory, bridge, and such. Among other things, he examines the durability of electronic media in unstable climatic conditions and looks for ways to (de)synchronize sound and light. Suchánek composes his own music and develops software for his light, kinetic, robotic installations.
Moreover, he is also interested in creating non-traditional touch and non-touch musical instruments and is experimenting with sensors and programming. His dream is to create an electronic installation in the mountains, which will function for at least 500 years and will grow into moss and lichen.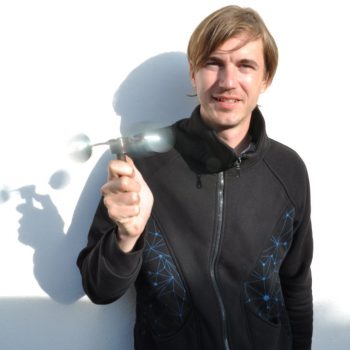 Jiří Suchánek studied at the studio of video-multimedia-performance under the guidance of Keiko Sei and Petr Rónai at the Faculty of Fine Arts at the Technical University in Brno. Later he attended several workshops and study fellowships – such as CTM MusicMakersHacklab 2014, Timet (Giardino Sonoro de la Limonaia), STEIM (Orientation workshop) and is currently a member of the Institute of Sonology in The Hague. Since 2009 he has been working as an assistant at the Department of Audiovisual Technology at the Faculty of Fine Arts in Brno, where he teaches Audio Technology and History of SoundArt. Currently, he is a Ph.D. student at the Janáček Academy of Music and Performing Arts, where he works on his thesis "Sonification and Aesthetics of Data-Mapping".
The residency is supported using public funding by Slovak Arts Council. The residency is also supported by Creative Industry Košice and City Košice.