Anežka Hošková (*1982) je výraznou postavou súčasnej českej výtvarnej scény, ktorá absolvovala ateliér intermédií Doc. Václava Stratila na Fakultě Výtvarných umění v Brně. Hošková tvorí kresby, maľby, objekty, inštalácie a performance. Je členkou A.M.180 Collective, ktorý prevádzkuje od roku 2003 Galerii A.M.180 v Prahe a tak isto je spoluorganizátorkou každoročného festivalu súčasnej alternatívnej hudby Creepy Teepee v Kutnej Hore. Sem privádza umelcov z celého sveta, a tak isto počas roku usporiadava koncerty v pražských kluboch a sama vystupuje ako Dj Black Dumpling. Anežka je veľmi aktívna umelkyňa, jej tvorba je zastúpená v štátnych a aj v súkromných zbierkach.
https://www.works.io/anezka-hoskova
Rezidenčný program z verejných zdrojov podporil Fond na podporu umenia. Pobyt ďalej podporilo mesto Košice a Creative Industry Košice.
---
Anežka Hošková (*1982) is a significant figure of Czech contemporary art scene, who studied at the Studio of Intermedia led by Doc. Václav Stratil at the Faculty of Fine Arts in Brno. Hošková creates drawings, paintings, objects, installations, and performances. She is a member of A.M.180 Collective, which has been running A.M.180 Gallery since 2003 in Prague and she is also co-organizer of the annual festival of contemporary alternative music Creepy Teepee in Kutná Hora. Here she brings artists from all over the world, and during the year she organizes concerts in Prague clubs and performs herself as Dj Black Dumpling. Anežka is a very active artist, her work is represented in both state and private collections.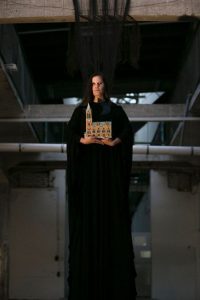 https://www.works.io/anezka-hoskova
The residency programme is supported using public funding by Slovak Arts Council. The residency stay is then supported by the city Košice and Creative Industry Košice.