Maja Renn (*1990) je výtvarníčka žijúca v Zürichu. Absolvovala Holandský umelecký inštitút v Arnheme. V jej práci sa spája kresba, písanie a performance. Opakujúcimi motívmi v jej tvorbe sú sny, traumy, odlúčenie, rytmy, neprítomnosť, chyby, putovanie a strácanie sa.
Počas svojej rezidencie v Košiciach bude prostredníctvom participatívneho procesu prepisu snov rozvíjať sériu súčasných rituálov, ktoré sa budú čiastočne diať v skutočnom priestore Majinho ateliéru a čiastočne v priestore lucidného snenia účastníkov.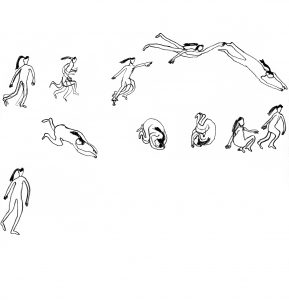 Maja Renn sa v mesiacoch júl – september zúčastní rezidenčného pobytu v Košiciach. Rezidencia je podporená Višegradskym fondom a organizáciou Creative Industry Košice.
---
Maja Renn (*1990) is a visual artist based in Zürich. She graduated from the MA Art Praxis at Dutch Art Institute in Arnhem, Netherlands. Her work intertwines drawing, writing, and performance. Recurring motives of her practice include dreams, traumas, dissociation, rhythms, absence, errors, wandering and getting lost.
During her residency in Košice, through a participatory process of transcribing dreams, she will develop a series of contemporary rituals, performed partly in the material space of the studio and partly in the lucid dream space of the participants. Maja Renn will take part
Maja Renn will take part on the residency in Košice from July to September. The residency is supported by Visegrad Fund and Creative Industry Košice.